Make your voice heard for your child and school.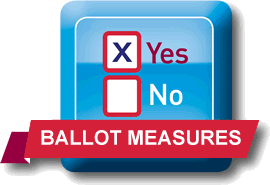 November 8 is Election Day in California and across the nation.
Laws enacted by local, state and national bodies are primary sources of public policy. Securing adequate laws for the care and protection of children and youth is one of the purposes of PTA. As a non-partisan association with a long track record of speaking up for all families and connecting families, schools and communities, PTA never comments on, endorses or supports individual candidates for office. However, the association does take positions on bills and initiatives that impact the education, health and well-being of California's children and families.
California State PTA is supporting five statewide ballot initiatives.  Vote YES  on
http://capta.org/focus-areas/advocacy/current-legislation/state-ballot-measures/
PAUSD: Local Control Accountability Plan Community Meeting
Tues, Oct 25, 8 – 10 AM & 5 – 8 PM
District Office, Board Room, 25 Churchill Ave., Palo Alto
The Palo Alto Unified School District is updating the Local Control and Accountability Plan as required by the California Department of Education. Development of the plan must include input from key stakeholders. The District would like to invite you to return and participate in the LCAP Community meeting. At this meeting we will share progress on this year's plan and solicit feedback on 16-17 goals, actions and measurements as we began to develop the 2017/18 plan.
Spanish and Mandarin translation provided.  Click here learn more.  Information available in more languages.
Click My Cause:  The Power to Speak Up for Children and Families with the Click of a Button
As a PTA member, you speak up for your children every day.  Now, with the Click My Cause app, you have the power to speak up for your children to Sacramento decision-makers. When a California PTA supported bill or issue needs public support, we'll send you a mobile alert.  2 clicks later, your postcard email reaches the Sacramento decision-makers.  If you have a iPhone download the FREE App now.  Learn more. 
Nancy Krop welcomes the opportunity to give a 5 minutes at your school or community group.   Nancy has served as PTAC's VP of Advocacy and is the former Director of Legislation for Sixth District PTA.
Nancy Krop, CEO/President
(650-740-332
Click My Cause
3790 El Camino Real, No. 201
Palo Alto, CA  94306