Make your voice heard for your child and school.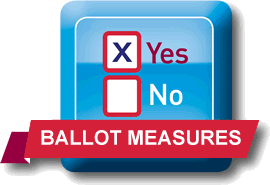 November 8 is Election Day in California and across the nation.
Laws enacted by local, state and national bodies are primary sources of public policy. Securing adequate laws for the care and protection of children and youth is one of the purposes of PTA. As a non-partisan association with a long track record of speaking up for all families and connecting families, schools and communities, PTA never comments on, endorses or supports individual candidates for office. However, the association does take positions on bills and initiatives that impact the education, health and well-being of California's children and families.
California State PTA is supporting five statewide ballot initiatives.  Vote YES  on
http://capta.org/focus-areas/advocacy/current-legislation/state-ballot-measures/
Addison Elementary School (650 Addison Avenue, PA)
Are YOU prepared when an emergency occurs?
How do you protect yourself and your family if a catastrophic earthquake, a pandemic disaster, or a fire rampage occurs?
How do you deal with a robbery?
How do you ensure that your child(ren) ride their bicycle(s) safely?
How do you stay connected in an emergency when your phone does not work?
Come to the Emergency Preparedness & Home Safety Fair to learn, share and SAVE LIVES!  This annual event is sponsored by the Palo Alto (PA) Chinese Parents' Club, PA School District, PA Police Station, PA Fire Station, PA Utilities, Children's Hospital and City of Palo Alto.  Free admission!  The first attendees will win free gifts.
Great opportunities to meet the candidates for the PAUSD School Board…
Saturday, October 1, 10am-12 noon (doors open at 9:30am)
Jordan Middle School, 750 N. California Ave., Gymnasium
SPONSOR: Palo Alto CAC and Parent Advocates for Student Success (PASS)
This forum will focus on issues that impact outcomes for historically underrepresented families and students with special needs. Childcare, light refreshments and Spanish translation provided.
Tuesday, October 4, 6:30-8:30pm
Barron Park School MP Room 800 Barron Ave, Palo Alto
ALL interested Palo Alto Voters and PAUSD parents are invited to come and hear from the school board candidates! Barron Park, Ohlone and Fairmeadow PTAs are co-hosting this K-5th grade-focused forum with all candidates. If you'd like to submit a question to have the candidates respond to, email your question to
k5october4forum@gmail.com
by
Oct 3
. Please keep your questions related to K-5th issues.
Spanish and Mandarin translation will be provided.